"The study of Karate is about continuous, life-long learning. There is always a new way to look at what you already know."
-sensei jane naylor-jones
Jane successfully passed her Black belt under Sensei Enoeda on the 13th May 1977 and through hard training gained her 5th Dan on the 6th October 2012 under Sensei Andy Sherry.
​
She has had the privilege to train under many great Karate masters, too many to name all, but for her Sensei Enoeda will always stand out.
She had known Sensei Enoeda since she was very young as both her father and Sensei Enoeda were very close friends. He would often visit Chelmsford's Dojo and both families would socialize. When Sensei Enoeda married Reiko, her father was his best man and she was his bridesmaid. This close relationship gave Jane the opportunity to regularly train and learn from Sensei Enoeda.
Photo: A young Jane with Sensei Enoeda and her brother Mark - 1974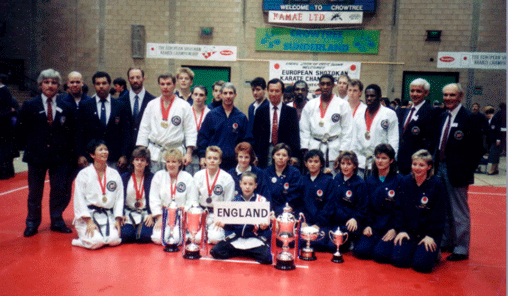 Jane has had a very successful competition career – winning her first title as Southern Region Kata Champion in 1974. She then went onto be regularly placed at National Level in both Individual Kata and Kumite, and Team Kata events – including Gold in 1982.
Jane was a member of the England team from 1983-1991 and represented Great Britain in the 1990 World Championships for kumite. Although her international career came to a close with the birth of her first daughter Bronte she did return to compete and be placed at National level again in the subsequent two years.
Photo: Jane (front row, fifth from the right) with the KUGB England Team at the 1986 Europeans Shotokan Karate Championships in Sunderland
"when women were first allowed to fight, i signed up. i KNEW IF I DIDN'T, i may not have that chance again."
Photo: Jane (right) competing for Gt Britain at the 3rd World Shoto Cup in 1990
Photo: Jane with the Chelmsford 'Shotokan Tigers' Demonstration Team at the 2007 KUGB National Championships.. (From left to right) Jack Hillsden, Sharky Austin-Coskry, Eric Austin-Coskry, Jack Somers, Callum Charleston and Michael Jeffrey.
Jane's passion is always to the technical development of her karate and to train at every opportunity, but she has also channeled some of this energy into developing her reputation as an Instructor both within the Chelmsford Dojo and the Karate Union of Great Britain (KUGB).
​
When the murders of two young children took place in August 2002 (the Soham Murders), Jane immediately decided that she would open a class dedicated to the development of self defence in young karateka.
That next month, September 2002, the Chelmsford Shotokan Tigers were formed under the wing of Chelmsford Karate Club and this class has continued ever since.
​
There have been many highlights over the years from this children's class, including the Chelmsford Demonstration in 2007 at the KUGB National Championships to commemorate the sad passing of one of the founders of Chelmsford Karate Club, Sensei Charles Naylor.
Furthermore, from this demonstration team in 2007 transformed three of the original six members into the 2013 Nationals Adult Team Kata Champions and another one placed second in the Men's Individual Kata at the same championship.
The Shotokan Tigers Classes, as of 2020, have produced two World Champions: Jack Somers and Mia Hillsden.
Over the many years, Jane has developed numerous students who have gone onto to pass their Dan grades, be successful at competition both at National and International level but most importantly continues to inspire all her students to learn strong karate based on high technical standards.
​
As an active member within the KUGB, Jane is a the KUGB National Administrator, a National Referee (one of the first women to take this qualification), and is the KUGBs Publicity and Promotions Officer, and is the voice of the National Championship Finals each year. For Jane, having these roles is a great honour as her father was an active member of the KUGB Executive Committee for many years in his role as KUGB Vice-Chairman.
​
On the International Stage Jane is the Publicity Officer for the European Shotokan Karate Assocation (ESKA) and the World Shotokan Karate Assocation (WSKA).
She regularly attends their Championships which allows her to continue to strengthen her technical knowledge and understanding observing Karateka of the highest standard at close quarters.
Photo: Sensei Jane and Sensei Sherry (9th Dan) at the 2018 KUGB National Championships
Jane became a #ThisGirlCanEssex Ambassador in March 2018 to encourage more girls and women to get active and in May 2018 she was honoured at the KUGB National Championships as she joined the very small, elite group of people who have been with the organisation for 50 years.
​
In December 2018 Sensei Jane was honoured at the Active Essex Awards where she was named as Coach of the Year.
Jane's involvement with Karate has been a life long family affair. Along with her father, mother and brother being Blackbelts, she is married to Richard Naylor-Jones (5th Dan) and their daughters Bronte and Megan both practice Karate. She very much believes that the KUGB is a "family" and has a very close and strong relationship with the KUGB's Senior Instructors.
Photo: Sensei Jane receiving her Coach of the Year Award at the Active Essex Sports Awards